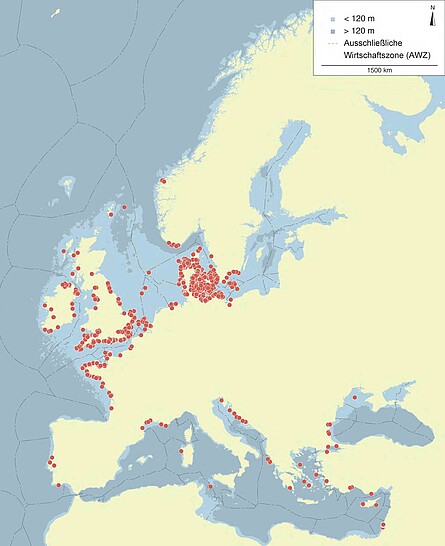 The SPLASHCOS Network and the Subland Working Group
The SPLASHCOS Network and the Subland Working Group
Since 2009 the European Commission-funded SPLASHCOS-Project has been setting up a Europe-wide network which provides the framework for scientific exchange about findings, methods and techniques as well as for discussions about strategies concerning the long-term preservation and heritage management of prehistoric landscapes and sites in the marine waters of the Baltic, North Sea, Mediterranean and Black Sea.
Amongst others, the achievements of SPLASHCOS include devising guidelines for cooperation with the offshore industry, information on Europe-wide availability of technical resources along with advanced training courses for undergraduates, post-graduates and doctoral students. Furthermore, the information system SPLASHCOS-Viewer was set up to provide free public internet access to all currently available information on submerged prehistoric findspots in the European Seas. This database is currently being expanded by Prof. Dr. H. Jöns, Dr. M. Segschneider and Dr. M. Mennenga; it had been published in 2016 together with Dr. D. Schaap of the Dutch Institute MARIS.
The work of the SPLASHCOS network has prompted the European Marine Board (EMB) (EMB) to engage in the future of research into landscapes and settlement remains which had been submerged at the bottom of the European seas as a consequence of the Holocene marine transgression. For this purpose, and in cooperation with Europae Archaeologiae Consilium (EAC), it has set up the working group "Subland", comprising an international team of archaeologists, geologists and oceanographers who are charged with preparing a position paper summarising the current state of knowledge as well as the possibilities and perspectives of the branch of research "Continental Shelf Prehistoric Research". Prof. Dr. Hauke Jöns has been appointed to represent the German contingent of the Subland working group.
The position paper was published in October 2014 and is available for free download.
Bibliography
Bailey, G., Galanidou, N., Jöns, H., Peeters, H. u. Mennenga, M. (Hrsg.) 2019: The Archaeology of Europe's Drowned Landscapes. Coastal Research Library 35. The Archaeology of Europe's Drowned Landscapes (Open Access)
Flemming, N. C., Çağatay, N., Chiocci, F. L., Galandou, N., Jöns, H., Lericolais, G., Missiaen, T., Moore, F., Rosentau, A., Sakellariou, D., Skar, B., Stevenson, A., u. Weerts, H., 2014: Land beneath the waves. Research strategies in submerged landscapes and sea level change – A joint geoscience-humanities research strategy for European Continental Shelf Prehistoric research. Position paper 21 of the European Marine Board, Ostend.
Jöns, H., 2015: Discover the submerged prehistory of Europe. Scientifi c background, aims, methods, outcomes and perspectives of the European SPLASHCOS network. In: P. A. C. Schut, D. Scharff u. L. C. de Wit (Hrsg.), "Setting the Agenda". Giving new meaning to the European archaeological.
Jöns, H., 2015: SINCOS, SPLASHCOS und SUBLAND – Geschichte, Gegenwart und Perspektiven von "Submerged Prehistoric Research" als europäische Forschungsdisziplin. Siedlungs- und Küstenforschung im südlichen Nordseegebiet 38, 13-28.
COST TD0902 Splashcos Locations of research projects, 166 sites