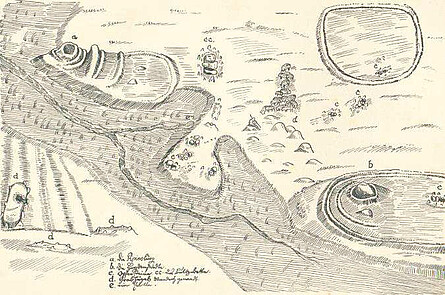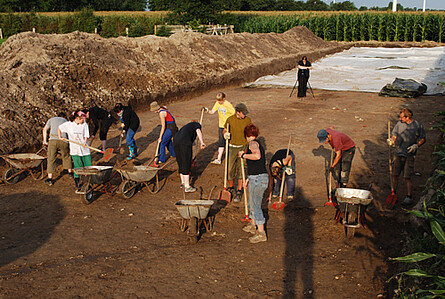 The Iron Age Central Place of Sievern, District of Cuxhaven
It has long been know that the area around Sievern in the District of Cuxhaven had a special significance within the power structure in the Elbe-Weser Triangle during the 1st millennium AD. At the centre of attention are the circular earthworks "Heidenschanze" und "Heiden¬stadt" along with the gold bracteates recovered within their periphery, which are considered to be indicative of the central function of this area. The project funded by the German Research Foundation (DFG) and the Lower Saxony Ministry for Science and Culture (MWK) aims to study the internal structure and extent of the individual components of this centre and evaluate its significance against the background of interregional research into "Central Places" of the 1st millennium AD. Coordinated by the NIhK, the project benefits from cooperation with the Institute of Geosciences of Kiel University (IfG) and the Archaeological Heritage Service of the District of Cuxhaven. Iris Aufderhaar, M.A., who has been employed as the project researcher, successfully defended the results of her socio-cultural analyses as part of her doctoral exam at Münster University. The study is currently being prepared for publication. Furth information is available here.
Bibliography
Weihrauch, C., Brandt, I., u. Opp, C., Die archäologische Aussagekraft von Phosphatprospektionen auf gedüngten landwirtschaftlichen Nutzflächen – eine Fallstudie im Gebiet Sievern (Ldkr. Cuxhaven). Archäologische Informationen 40, 2017, 1-12Aufderhaar, I., 2015: Der Raum Sievern und das Land Wursten – Zur Entwicklung und Bedeutung einer Region mit zentralörtlichen Merkmalen im westlichen Elbe-Weser-Dreieck. Siedlungs- und Küstenforschung im südlichen Nordseegebiet 38.
Aufderhaar, I., Bittmann, F., Brandt, I., Jöns, H., Klein, C., Schön, M. D., Stümpel, H., Wolters, S., u. Zimmermann, W. H. 2011: Neue Forschungen am Zentralplatz von Sievern, Ldkr. Cuxhaven. Germania, 87/2009, 173–220.
Aufderhaar, I., Brandt, I. 2011: Herrschaft am Knotenpunkt. Die Verkehrsanbindungen der Region Sievern, Ldkr. Cuxhaven, während des frühen 1. Jahrtausends n. Chr. Archäologie in Niedersachsen 14, 50-54.