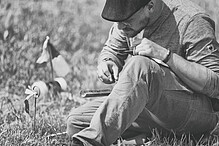 New geoarchaeological research on the island Föhr started!
For a long time, the question regarding the landscape development of the marshlands near the Borgsumburg and a possible marine connection remained unanswered. Thanks to the Frederik Paulsen Foundation, it was possible to employ the landscape archaeologist Pière Leon Frederiks MSc. As part of his PhD research, he recently launched his paleotopographical and geoarchaeological studies concerning the landscape genesis and natural waters (tidal creeks) beyond the borders of the early medieval castle complex. For the following three years, the PhD thesis will be part of the "Borgsumburg – an archaeological jewel of the North Frisian island of Föhr" project under the direction of Dr Martin Segschneider (NIhK) and will be supervised by Prof Dr Eileen Eckmeier (ÖSF – CAU Kiel). Especially the area of marshland stretching from the rampart to the northern dyke line is of particular interest for the upcoming geoarchaeological research.
Besides the development of the marshlands of Föhr, it will be investigated whether natural waters were present near the Borgumburg during its time of usage. Furthermore, the project examines if a possible maritime connection to the North Sea was accessible by boats. Due to the excellent preservation of paleo landscape structures fascinating results are to be expected.
Initial field prospections in the form of corings and geomagnetic measurments are planned for the upcoming months, which are supplemented by further laboratory analysis.