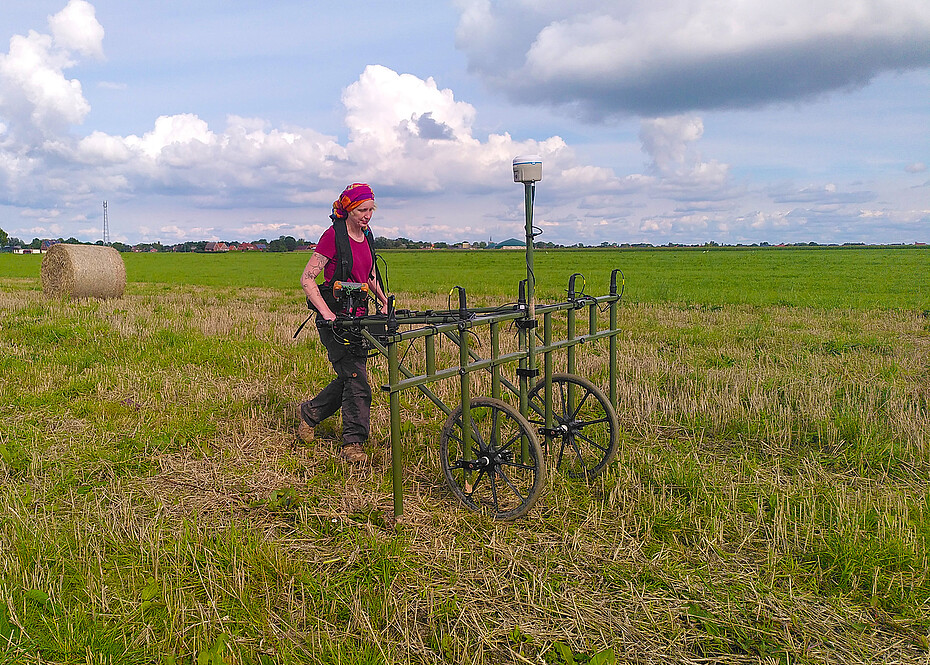 Localization of the old excavations of Assel and Ritsch, district of Stade using geomagnetics
Within the framework of the project "The Elbe river as transport route" funded by the program "Pro*Lower Saxony - Cultural Heritage - Collections and Objects", the role of the Elbe River as a traffic road of the Roman Iron and Migration Period is investigated.
A large part of the non-invasive investigation methods are geomagnetic measurements, which are carried out on two sites near Assel, Ldkr. Stade. In search of the exact location of old excavations from the 1930s and 1980s and silted up tideways, the team around project leader Dr. Saryn Schlotfeldt has been on site several times in the past months to carry out prospecting work. In this way it was possible to create a geomagnetic image of the existing ground structures on an area of more than about 75 hectares, which with the depicted anomalies serves as a basis for potential excavation campaigns.

A first exploratory excavation was recently carried out at the end of September to specifically examine the findings gained so far from the investigations carried out. There were clear traces of soil improvement measures and soil removal; Post-processing and evaluation is currently taking place.