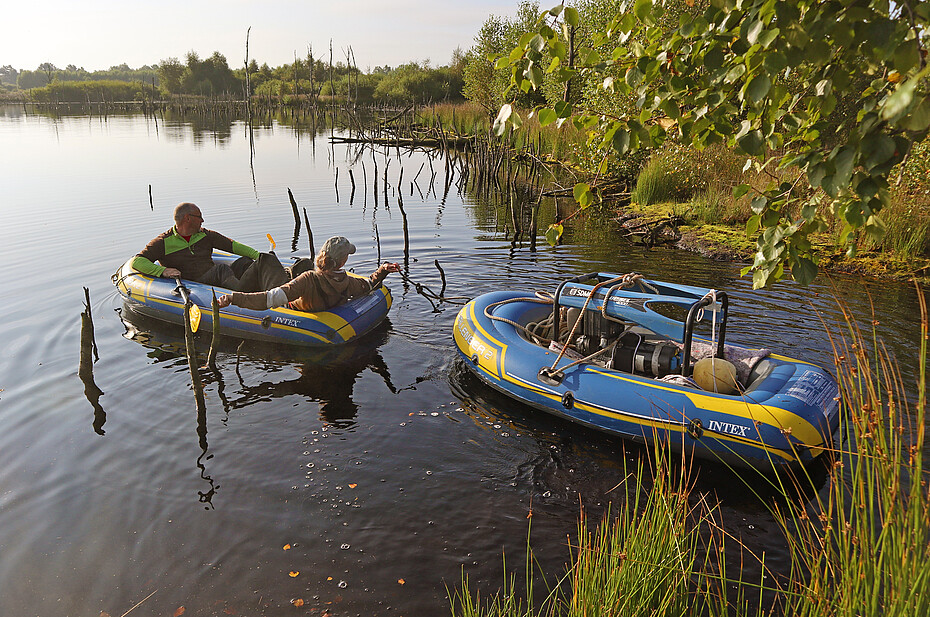 Archaeological expedition in the nature reserve "Hohes Moor", district of Rotenburg (Wümme)
As part of the DFG funded project "The Mesolithic in Northwest Germany", Dr. Svea Mahlstedt and her excavation team are currently processing an archaeological survey in the area of the Elmer Lake near Bremervörde (district Rotenburg (Wümme)).
In the 1930s, when the water level was low, Stone Age finds of post-glacial hunters and gatherers were repeatedly found on the edge of the bank, which today are presented in the Bachmann Museum Bremervörde.
The lake Elmer Sea – covering an area of approximately 10 hectares - looks back on an eventful history. While it was still known and loved as a bathing lake in the region until the 1960s, it is now quite hidden and protected in the "Hohes Moor" nature reserve. It serves as a resting place for migratory birds and belongs to the territory of a sea eagle.
Accordingly, the area is hardly developed with paths. Svea Mahstedt's team therefore has to find their own way through nature with GPS and rubber boots. The equipment is transported across the lake by rubber dinghy. And so the prospecting sometimes seems like an adventurous expedition - in the middle of Lower Saxony!