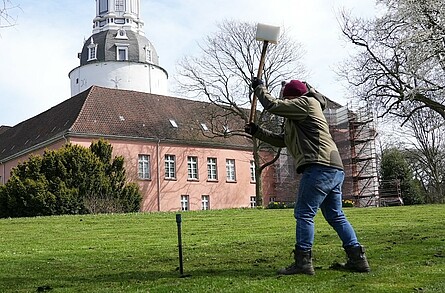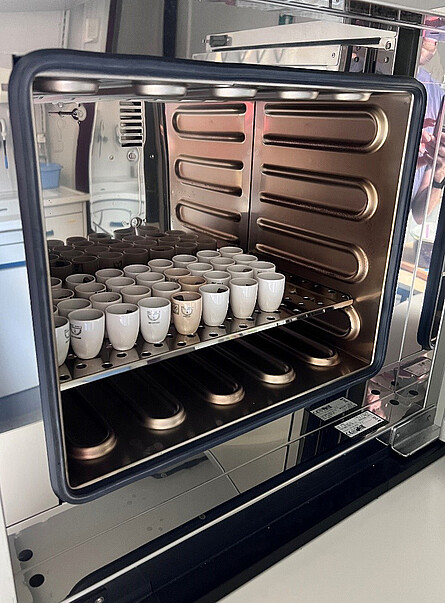 The soil quality in the castle park of Jever as reflected in current investigations
The project "Schlosspark Jever - landscape gardens in Friesland in climate change" is funded as part of the federal program "Adaptation of Urban Spaces to Climate Change". It enables numerous scientific studies, which should form the basis for adapting the park to the changing climatic conditions. This research is carried out by the Castle Museum together with the NIhK and other cooperation partners. As early as December 2022, the NIhK carried out geomagnetic measurements in the castle park in order to record building remains covered in the soil. However, the properties of the soil are also important factors for the living conditions of the plants in the park, which is why clarifying the question of the nutrients contained in the soil and its water storage capacity is of central importance for preserving the diverse life in the park. Overwatering is to be avoided, as is drying out of the soil, so that the unique stock of trees in the park can be preserved for the future. Against this background, fourteen pedological cores were carried out in spring 2023, during which 135 soil samples were taken from a depth of up to four meters. These are currently being studied in the NIhK laboratory to find out what can be done to prepare the park's soil for the changing climate.
The first results of the drilling show, among other things, that the thickness of the artificially constructed park floor, which was heaped up in the course of the redesign around 1830, is clearly visible. For example, building relics such as bricks, mortar and granite remains are recognizable. In general, the upper strata have a rather heterogeneous composition with an increased proportion of sandy material. A detailed evaluation of the data will be carried out after further laboratory work has been completed.