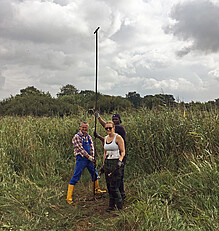 Getting to the bottom of the pingo
As part of their pollen analytical practical course, students of the M. Sc. study program "Environmental History" at the University Bremen cored the small mire "Ackerende" near Wiegboldsbur in East Frisia. The lecturers Prof. Dr. Bittmann and Dr. Steffen Wolters used this example to demonstrate the operating principle of the so-called "Russian peat sampler".
The small mire "Ackerende" is a relic of the last glaciation and since 2016 property of the NABU Aurich association which is dedicated to the tending of this natural monument. The particular preservation status of the mire is based on its geological exceptionality: "Ackerende" is a remnant of a periglacial pingo.
The palynological investigations revealed a 14.000 year long sedimentation history with a continuous sequence of late Pleistocene and Holocene landscape development. The first results have also shown that "Ackerende" has been a small lake for many millennia but got finally terrestrialized approx. 1000 years ago.