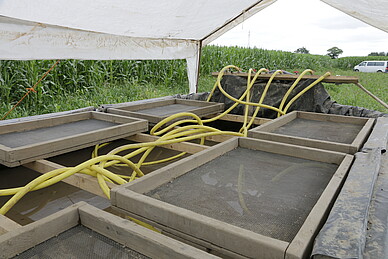 It starts again - the beginning of the excavation season
Because of the warmer temperatures and the low incidences things can start again - so the preparations for the excavation campaigns of the coming month begin in the excavation technique. The Lower Saxony Institute for Historical Coastal Research owns three construction trailers that are packed with the required materials by the two excavation technicians Dirk Dallaserra and Jens Lühmann.
These have been compiled individually for each excavation by the excavation managers in advance and differ depending on the prevailing landscape conditions. For Example is due to the rainy weather in the past few months the groundwater level in the moors particularly high and so the project "Relikte im Moor" requires a lowering of the groundwater, which is not used for other campaigns.